»The Smart Bike Parking Tower guarantees secure storage for e-bikes or bicycles in public spaces, making travelling by bike and train far more appealing. The flexible facade design, easy installation, resource-saving production and simple operation via app make the V-Locker useful not only for train stations, but also for event venues such as stadiums, exhibition centres or concert halls. With regard to the transformation of transport, this is a highly overdue concept.«

Prof. em. Anna Berkenbusch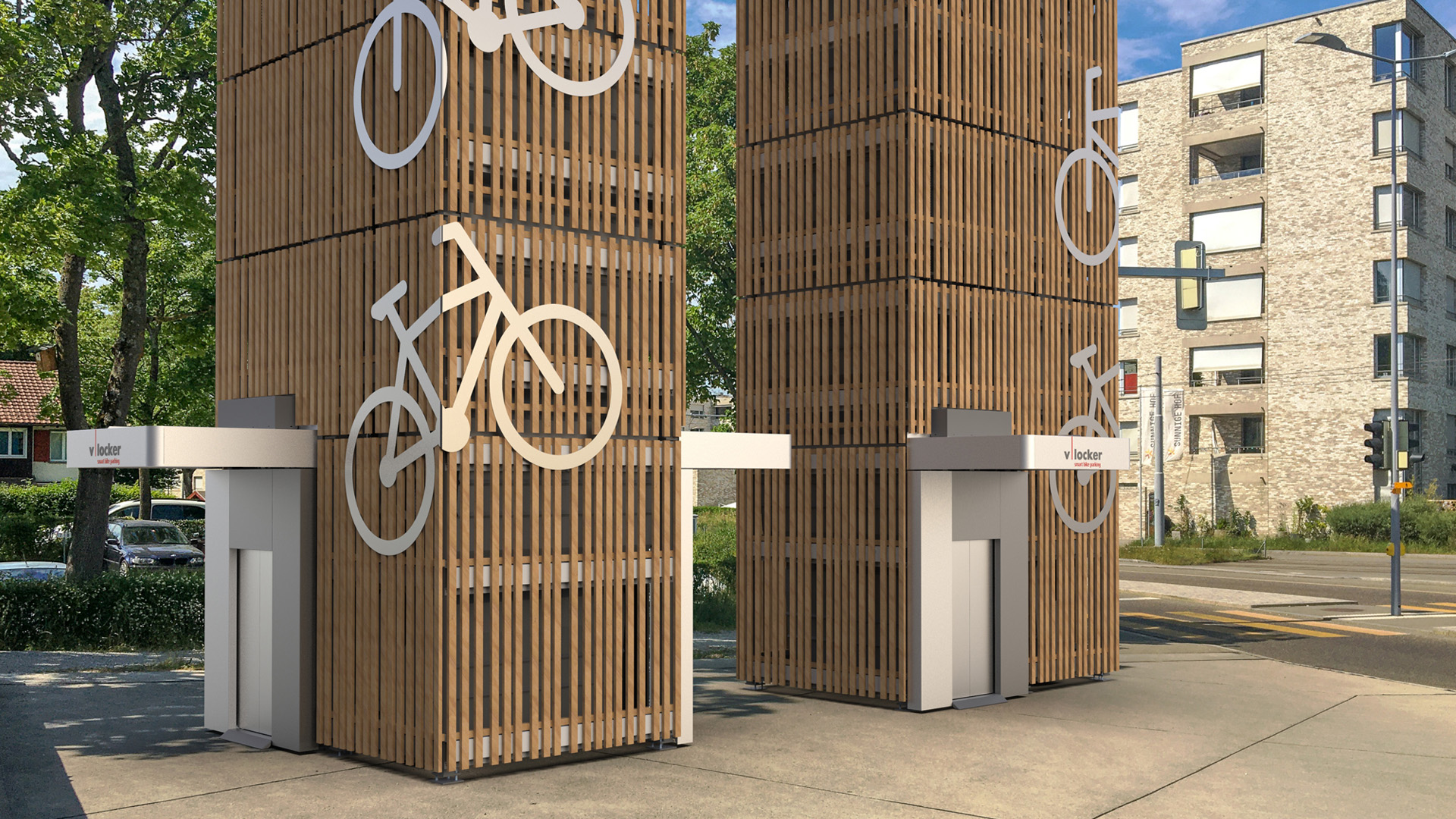 Three questions for Wolfgang K. Meyer-Hayoz, CEO of Meyer-Hayoz Design Engineering AG
How did the idea for V-Locker Smart Bike Parking System come about?
Frido Stutz, a retired airline captain, asked me to develop a bicycle parking solution. This was a topic that had interested me for a long time, and I agreed immediately. Still today, bicycles are often parked chaotically in public spaces. Frido Stutz had the clear idea of stacking the bikes upwards by means of a paternoster elevator. His goal was to safely park up to 60 bikes in the space of a single parked car. Together with my companions, it was possible to realise the idea after about four years of hard work, mostly financed through our personal contributions.
What was your personal highlight in the development process for V-Locker Smart Bike Parking System? Was there a low point?
Funding was always a balancing act, although we were all very frugal. The start-up platform, DB Mindbox in Berlin, was enthusiastic about V-Locker and awarded the idea a first prize. The recognition and prize money helped us to continue. Swiss Climate Foundation also helped in the same way. This enabled us to finance a first tower, which represented a first high point. We suffered a low point as a consequence of global supply chain problems, inflation and then the Ukraine war. An investment by the new anchor shareholder, Odinga-Ventures AG, has helped us over this hurdle.
Where do you see your project in five years?
The goal is to offer a whole network of V-Locker Smart Bike Parking towers. This will be carried out by founding the business V-Locker Invest AG, also supported by Odinga Group. We will offer security and protection for high-value bikes and e-bikes (plus luggage), with digital networking through smart IoT technology by V-Locker, booking and billing via smartphone app, and architectural adaptability through facades made of wood, metal, glass, photovoltaics or vertical greening. These approaches considerably reduce the consumption of "grey energy". All this and much more is already offered by V-Locker today. Far-sighted investors are still welcome to come on board.