»On the one hand, the Steelcase Flex Perch Stool impresses with its innovative material manufacturing process based on the recycled plastic developed by BASF's ChemCyclingTM project, which helps close the fossil material cycle and reduce waste. On the other, it is a modular and stackable archetypical standing stool that can be optimally used in the 'New Work' context, among others.«

Werner Aisslinger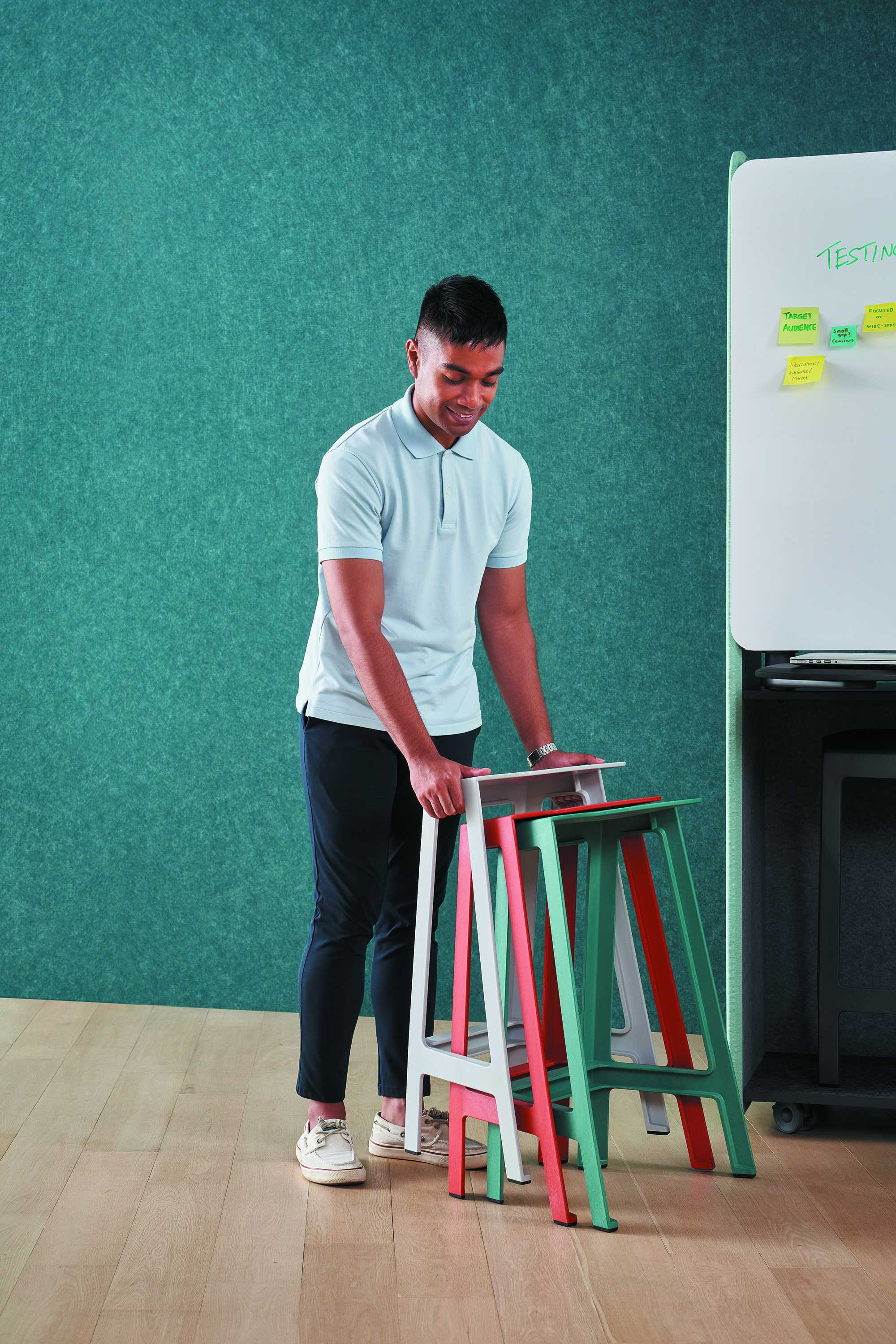 Three questions for Simona Notarangelo, Senior Product Specialist
How did the idea for Steelcase Flex Perch Stool come about?
At the beginning, our mission was to develop a highly functional office stool that could be used in new working environments and could also be produced in an environmentally friendly manner. We knew that, with this product, we had the opportunity to combine innovative material and our knowledge of movement in the workplace to create a game-changing solution in terms of design, the circular economy and posture. The material requirements for Perch were high in order to meet our demands for durability, light weight and sustainability. We explored a variety of sustainable materials, including bio-based raw materials and materials made from ocean waste. Our search ended when we discovered BASF's novel process known as 'ChemCycling™', which met all of our requirements in a new way.
What was your personal highlight in the development process for Steelcase Flex Perch Stool? Was there a low point?
With Perch, one of our main goals was to eliminate waste to the greatest possible extent. When production is switched from one colour to another, the different coloured plastics are usually mixed together, resulting in multi-coloured standing stools that are fully functional but cannot be sold. We were particularly pleased when we found a solution, which is to donate rather than recycle these stools, which now go to non-profit innovation partners working for equal opportunity in education.
Where do you see your project in five years?
By producing the world's first furniture product from BASF's ChemCycling™ material, we are demonstrating that investments in new recycling methods are worthwhile, that they can result in durable consumer goods, and that waste streams have value. With this project, we are setting a precedent both for other products from us and for other companies that follow this example in the years to come.