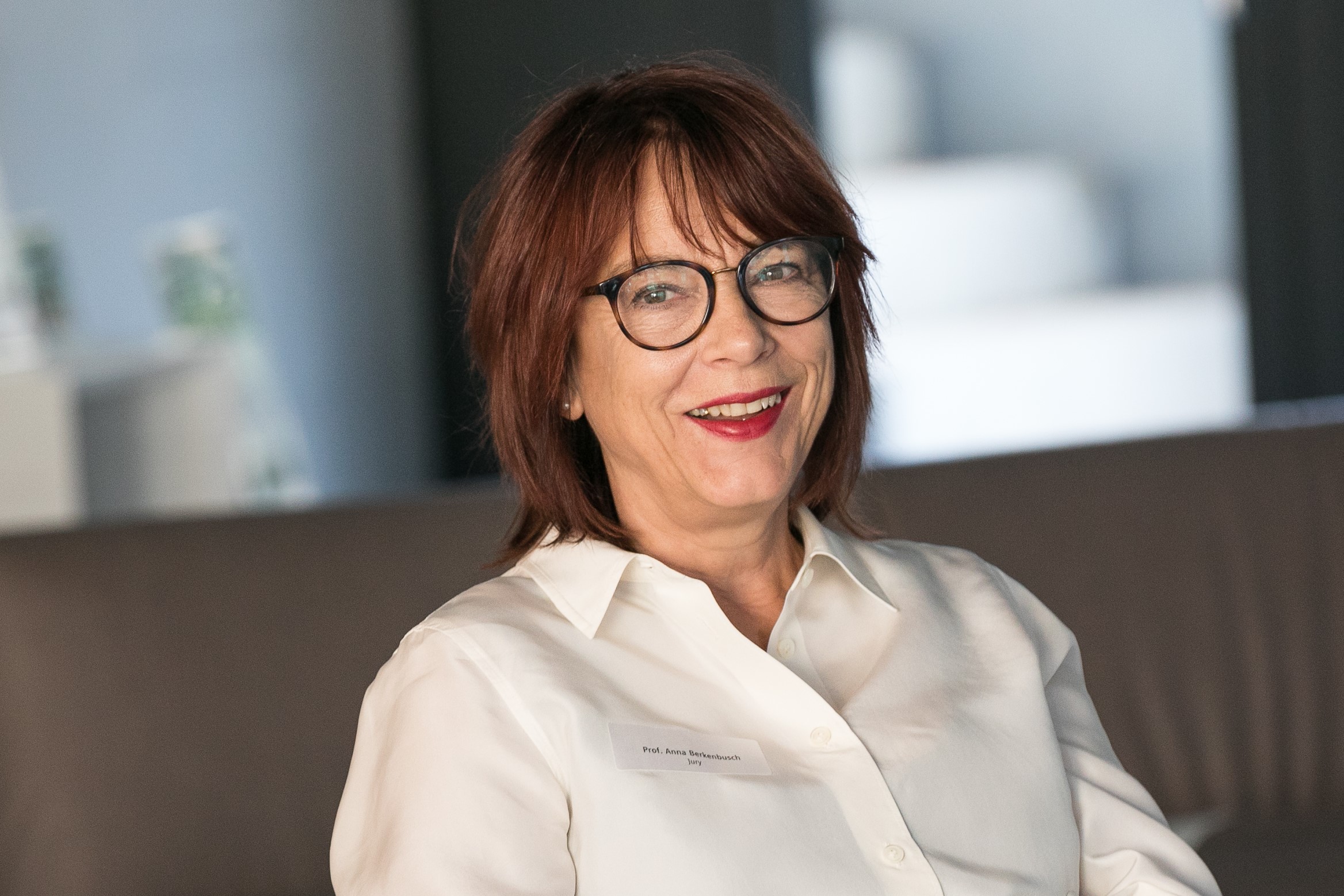 In order to be able to decide on the awarding of the German Ecodesign Award, we draw on the knowledge and wide range of proven experts. The evaluation of, among other things, innovative content, design quality and environmental characteristics is therefore carried out in a two-stage process, in which a panel of experts first decides which competition entries will be admitted to the jury session. The interdisciplinary jury then meets to select nominees and award winners in the categories of product, service, concept and young talent. More than one winner may receive the award in each category.
Anna Berkenbusch is a communication designer and worked as a professor at Burg Giebichenstein Kunsthochschule Halle until 2020. From 2018 until 2022, she was the jury chair of the German Ecodesign Award. Her work has received numerous national and international awards.
Please describe briefly what you do outside of your role as jury member of the German Ecodesign Award. What is the motivation behind your professional career?
Since the early 1980s I have been running a design studio in Berlin, designing primarily in cultural and social fields. As a designer and professor (emeritus) of communication design at Burg Giebichenstein Kunsthochschule Halle, I am particularly interested in the use of language and codes in relation to communication processes that facilitate daily life together. Design is a tool to structure information and make it comprehensible - and in the best case to show options for action.
As a jury member, what are the most important aspects that should be considered in the design process? What criteria do you place the most value on when evaluating a submission?
For me, comprehensibility of processes and product interfaces is important (although I realize that not all processes can be broken down to simple messages). Nevertheless, design can create clarity and comprehensibility and shape services or products in a way that enriches and improves everyday life. I am pleased when a sustainable design process that focuses on reaching out to the user also considers the interests of the community. In addition, good design is an important factor for me. It can clarify the value, i.e. the function, the visual beauty or the usefulness of a submission and thus be a unique selling point. In addition to simple and easy-to-use services and products, it seems important to me to also have big players on board who can support behavioral changes as multipliers with regard to sustainability and thus make a difference.
When it comes to a head-to-head race between two submissions, what does your personal weighing process look like? How does the jury overcome differences in opinion?
The submissions are often discussed several times. Each juror has a different view of the submissions, which is what makes the jury sessions so exciting. We come from very different fields of work, which is why the controversial discussions about some submissions are very interesting - and above all useful for understanding the work, classifying it correctly and looking at it from different premises. The jury takes the time to include the different approaches to the topic and the respective expertise of the jurors. In addition, the discussions are supported by the assessments of the project advisory board. Sometimes a decision has to be postponed for a short time. As already mentioned, questionable submissions are not discussed only once. Usually, a sound decision is reached after two rounds and extensive discussion.
Which project from recent years gave you an "aha" moment and why?
I was fascinated by the two submissions "SeeKuh" and "SeeElefant" from One Earth - One Ocean e.V. 2016 and 2019. Two ships that fish plastic waste out of the sea and send it directly for further processing, that impressed me. And I am pleased that the ships are also being in use. But there were many other projects that particularly excited me, for example the 2020 submission Expedition 2 Degrees, which uses augmented reality to bring the immense scale of glacier melt to life and shows a glimpse of the future. Personally, I also care about the small inventions that help prevent waste or environmentally harmful chemicals, such as the compostable all-purpose household paper Compostella (2018) or the simple wooden sticks TwistOut for cleaning drains. The Refill project (2019), which offers free refills of water bottles in local stores through a simple sticker on the door to reduce the purchase of plastic water bottles, is also a good tool for everyday life precisely because of its simplicity.
A look into the future: When you think of ecological design - where, in which areas or industries, do you still see the most potential for development?
In the areas of communication and information technology, I would like to see more submissions that deal with daily communication processes, i.e. data uploads. The worldwide energy demand due to streaming and clicks as well as the resulting CO2 emissions is immense. Here, design could help to offer formats that require less data volume, shorten loading times and use electricity from renewable sources, which are then also faster and more sustainable - and still work well and look up-to-date. And I would like to see more didactic materials for schools and educational institutions that are sustainable in terms of content and form and that make an awareness of the responsible use of the environment a matter of course, without pointing fingers or doomsday scenarios. In addition, there are many everyday areas (e.g. cosmetics) where the interplay of good design and sustainable offerings could make a big difference, especially in the large consumer markets.
In conclusion: What advice would you like to give to future participants or developers and designers of ecodesign projects?
In general, there is still room for improvement in the area of design. Committed and environmentally aware developers should work together with designers from the very beginning of the work process and include their expertise. This early collaboration offers the chance for a different, enriching view on the project. Also, I believe that some submissions with a professional visual appearance, that is, with well-designed user interfaces and presentation materials would have a better chance of being nominated or winning an award. It's not called the EcoDESIGN Award for nothing. Furthermore, I would be happy if more applicants from the field of young talents would venture into new territory and think of products/processes/services that we might not consider practicable at the moment, but which will be possible tomorrow - through the creativity, intelligence and design competence of young designers and inventors. Furthermore, I hope for more input from big companies, i.e. I wish for courageous submissions that bring the wealth of ideas for sustainable projects to the world or the market, and thus bring the feasibility of a sustainable way of life into everyday life.