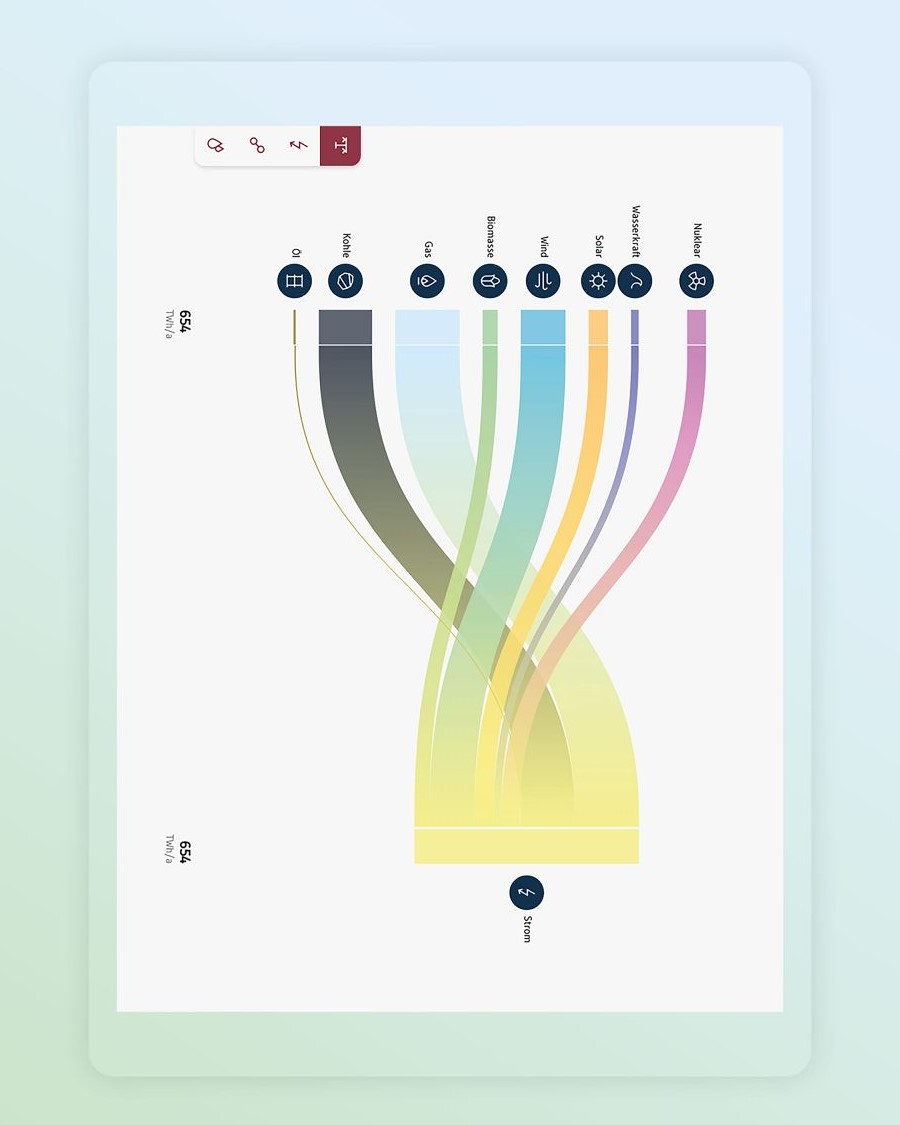 Ariadne Pathfinder
Potsdam Institute for Climate Impact Research
Germany's goal of becoming climate-neutral by 2045 will necessitate rapid and far-reaching changes in energy policy. The Ariadne Pathfinder shows how this can be achieved. Interactive storytelling introduces users to the basic issues of CO2 emissions and energy supply. Animated graphics illustrate the implications of different technological approaches to the overall energy system as well as to individual sectors of transport, industry and buildings. The application is based on more than 16,000 data sets, from which the Potsdam Institute for Climate Impact Research developed calculation models and future scenarios.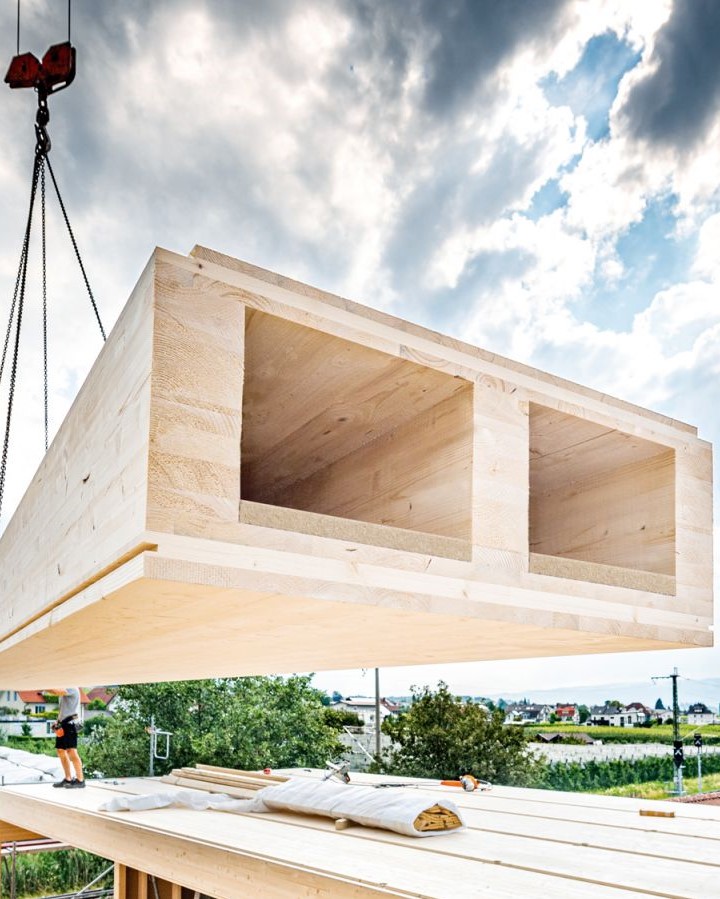 best wood CLT BOX - CEILING FS
best wood SCHNEIDER® GmbH
The best wood CLT BOX - CEILING FS is a tested and certified ceiling solution for multi-storey timber construction. The formaldehyde- and solvent-free glued hollow box form saves up to 38% of materials. The integrated insulation provides improved impact noise insulation in the low-frequency range. High static load-bearing capacity combined with comparatively low weight enables large spans in ecological timber construction. Thanks to the separability of the materials, the hollow box element, which is produced in southern Germany, can be deconstructed and the individual components of both wood and wood fibre insulation can be reused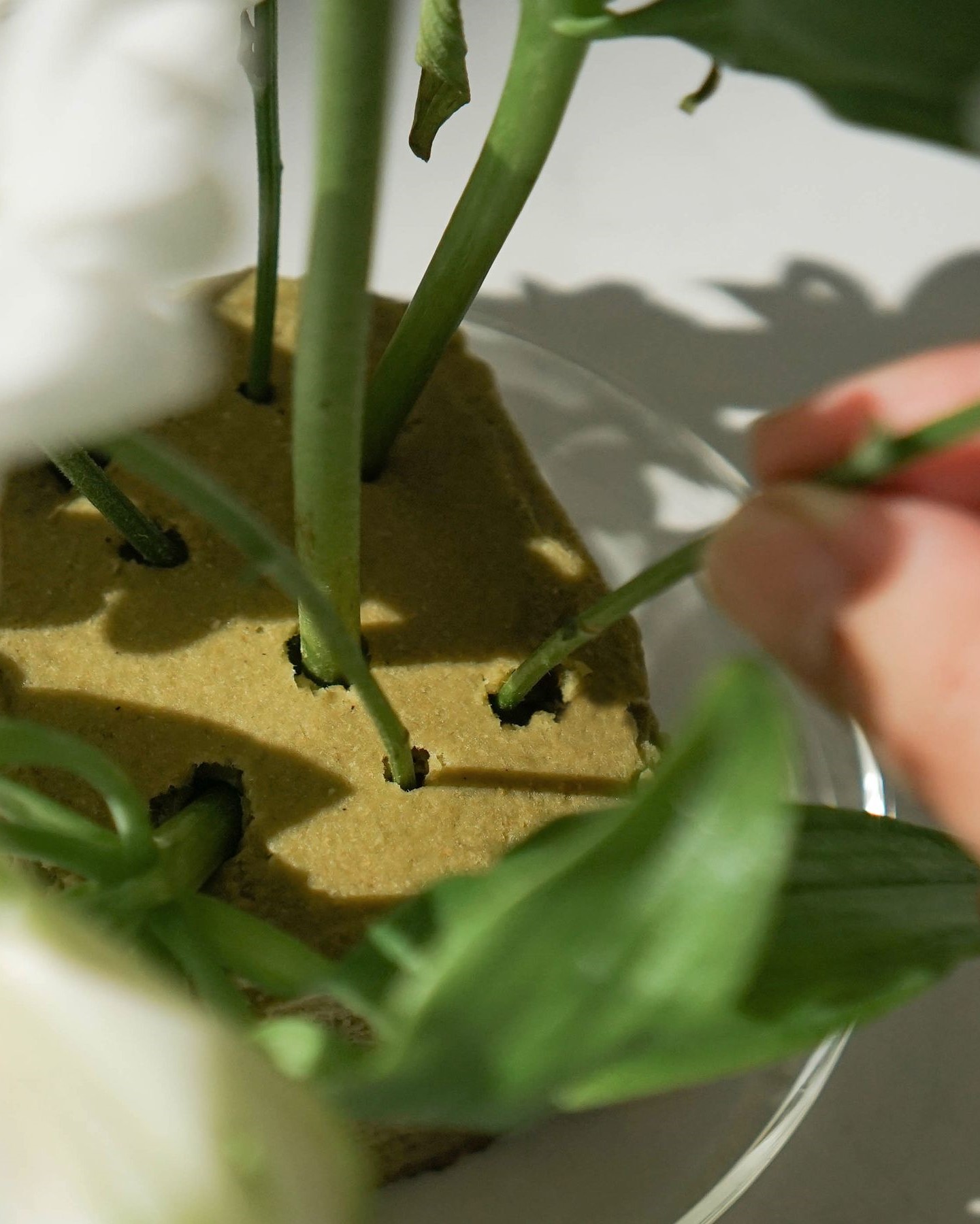 Bio–(Floral) Foam
Irene Purasachit | Aalto University
Bio-(Floral) Foam is a lightweight, foam-like material that can absorb and retain water without immediately dissolving. Once wet, the material is soft enough for flower stems to be pushed in, and helps to keep flowers fresh. Bio-(Floral) Foam is made from 100% cellulose obtained from floral waste from the cut flower industry. The material is an environmentally sound alternative to the commonly used floral foam made using oil-based phenol formaldehyde, and thus offers a recyclable solution in the area of floristry.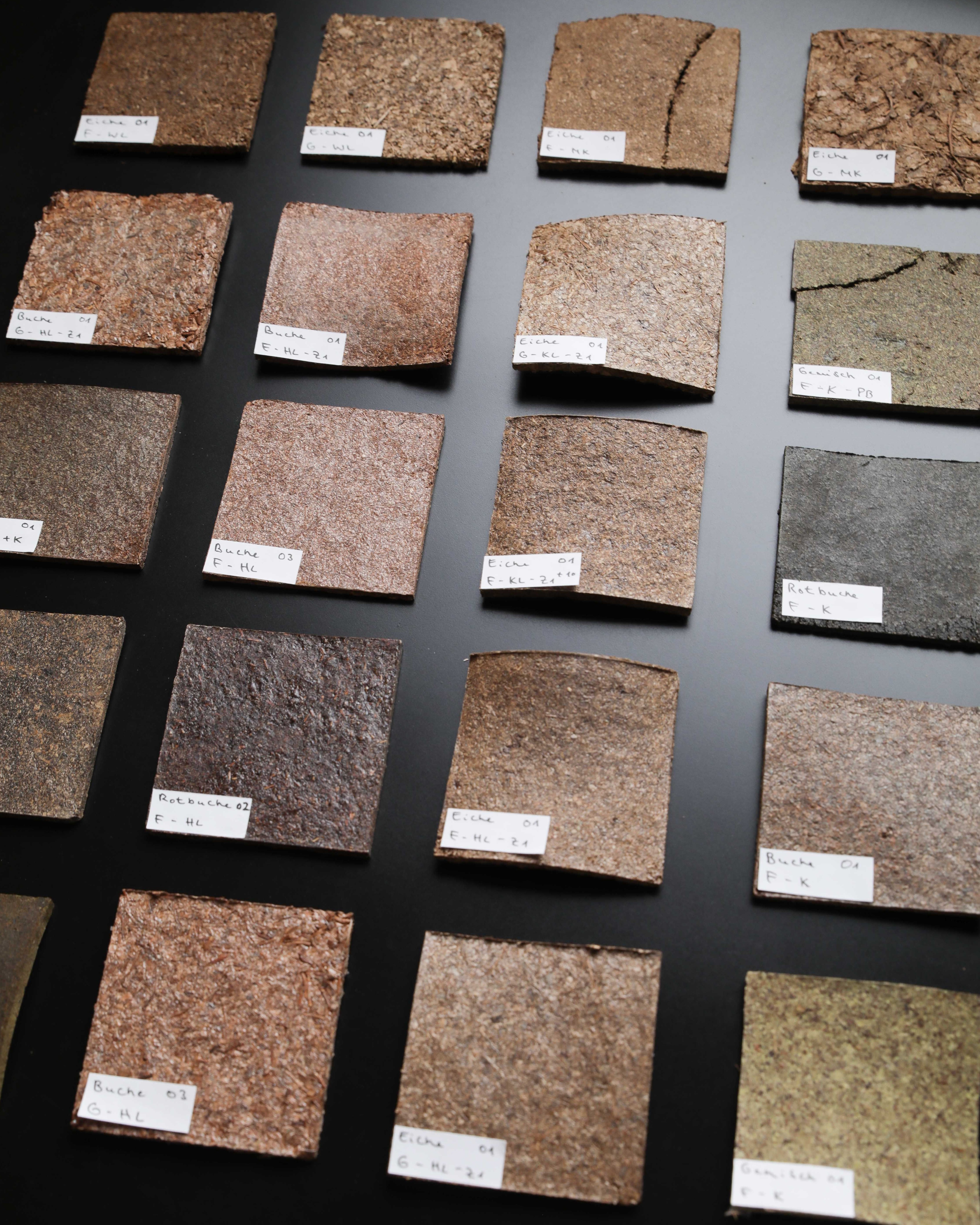 Blattwerk
Daniel Silva Friedrich (studio KUSIKUY) & Alexander Ebert | Hochschule der Bildenden Künste Saar
In the experimental product series Blattwerk, the existing but unused raw material of urban foliage is processed into a material that has the potential to replace and/or complement conventional wood panel materials. The advantages lie in lower energy consumption during production and in the reduced impact of deforestation. Thanks to the use of plastic-free glues, the material can be completely degraded and returned to the biological cycle. The colour, shape and structure differ depending on the type of leaf.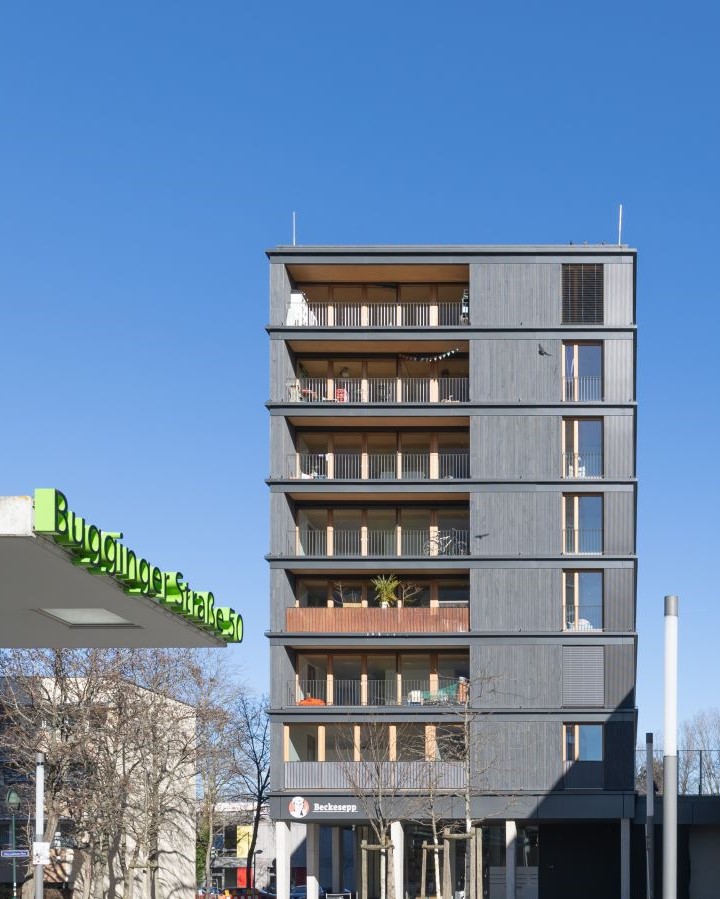 BUGGI 52 Residential and Commercial Building
Holzbau Bruno Kaiser GmbH
Construction of the eight-story wooden building BUGGI 52 was completed in Freiburg at the end of 2020. It meets the highest environmental and ecological standards and is the first FSC-certified building in Germany. From the first floor upwards, it is constructed entirely of wood. The elevator shaft and staircase are also made of wood, meaning that there is no concrete core – unique to date for this class of building. Deconstructability and recyclability were taken into account in the design. Alongside the thirty residential units, there is also space for a supermarket, a bakery and a kindergarten.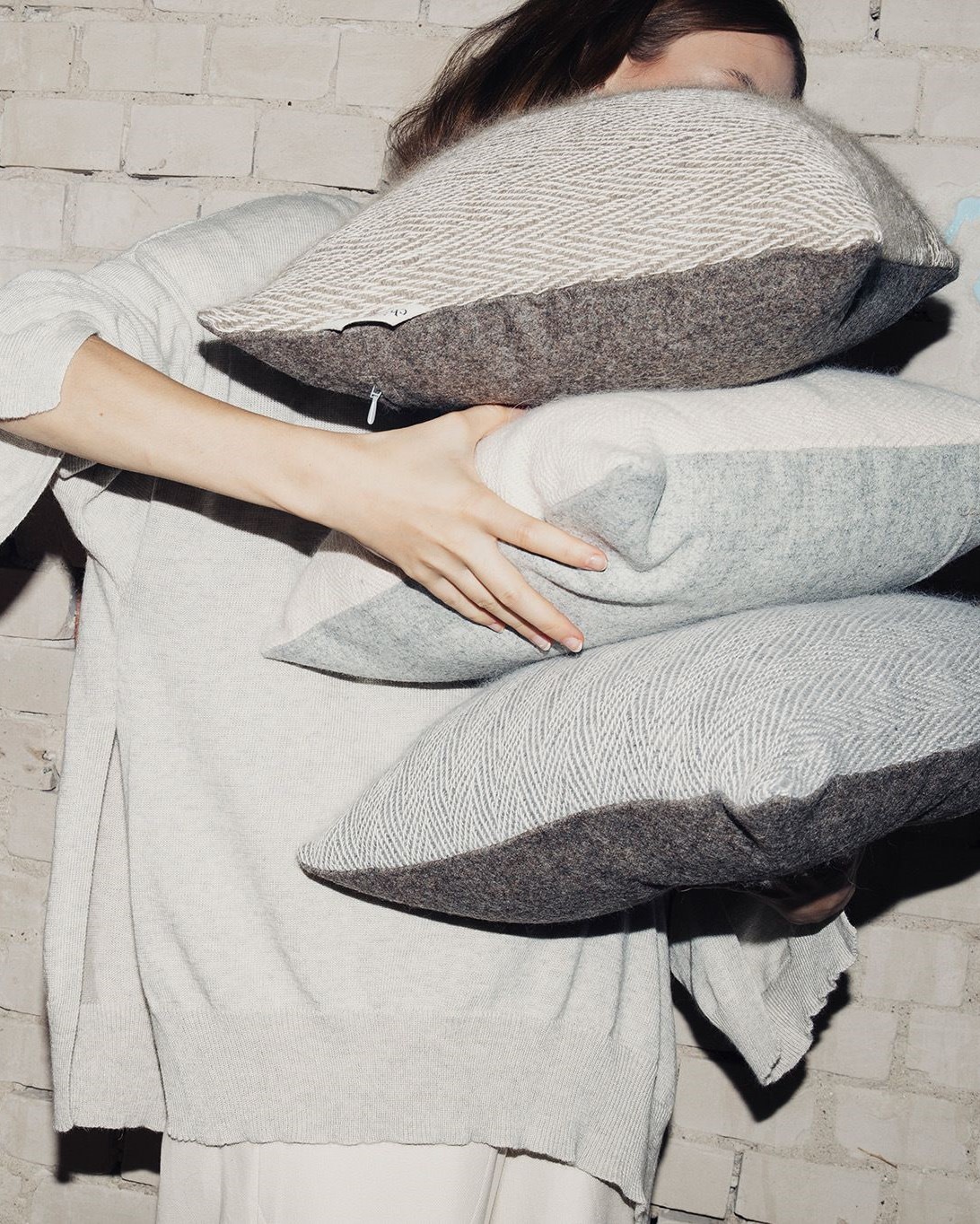 Chiengora® – Wool from dog fiber
YarnSustain Schönrock Uhl GmbH
Every year, around 8,000 tonnes of biodegradable pet hair is accumulated throughout Europe in the course of pet grooming. YarnSustain has developed the first industrial process for producing yarn from pet fibres. The result resembles cashmere, only without the need for animal herding. Under the name of Chiengora®, cushions and knitted products are made from the combed-out undercoat of dogs. The production saves dye, water and energy, as Chiengora® is processed undyed. The dog fibres are collected and donated from private households, dog salons and breeders with the help of a crowdsourcing network.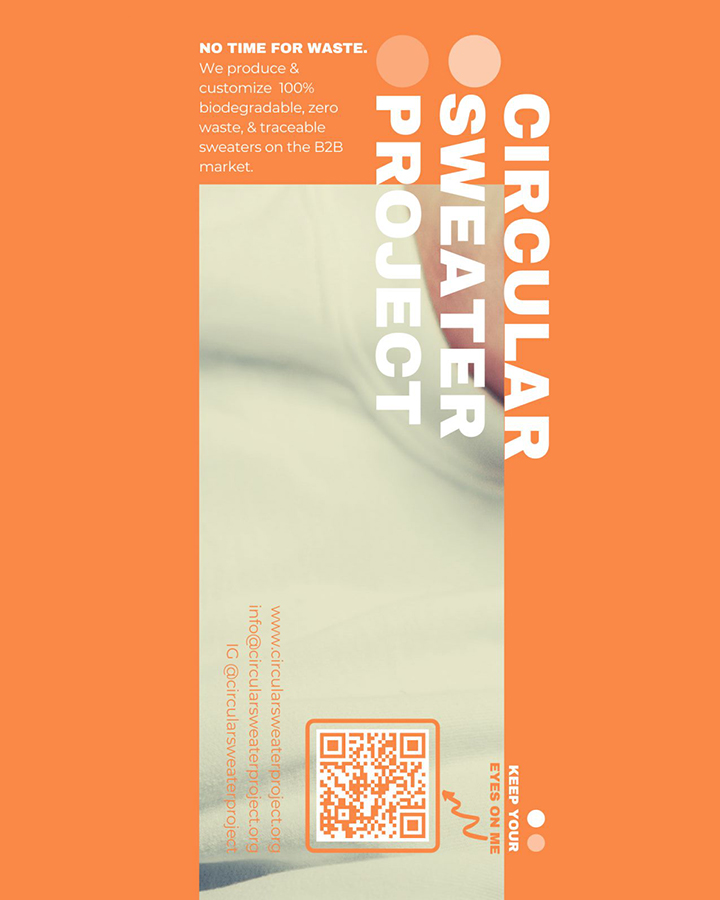 Circular Sweater Project
Hannah Schorch
The Circular Sweater Project is characterised by holistic sustainability in the production, distribution and upcycling of its sweaters. The central and new features are two codes that are integrated into the fabric. Thanks to an RFID code, each sweater can be identified and returned for repair or new yarn production. The QR code is used to track the sweater's life to date, from the production of the fair-trade organic cotton to its various stops in retail contexts or at various businesses, to people who have worn it and left personal messages for subsequent generations of users.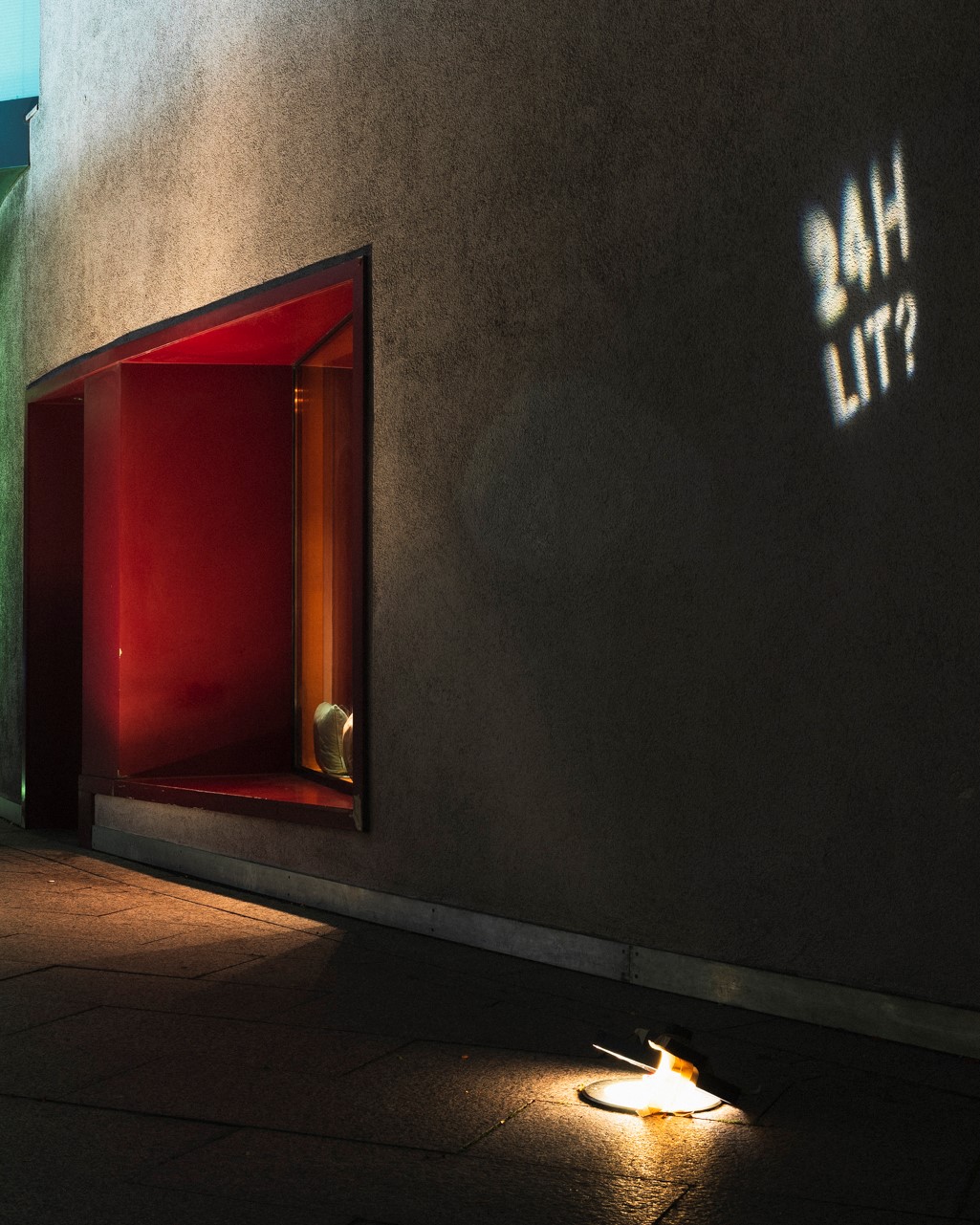 Licht_Verschmutzt
Marius C. Merkel | Stuttgart State Academy of Art and Design
The project "Licht_Verschmutzt" brings the debate about light pollution and energy waste into public space. Various installations modify "bad" light sources into media that criticize their own emission. Thus, recipients are confronted with and sensitized to the problem directly at the site of pollution. For the installations, leftover materials such as broken lenses or cuttings from cardboard boxes are upcycled and turned into small projectors and stencils. After the action period, all installations are removed, separated and recycled according to the principle "zerotrace".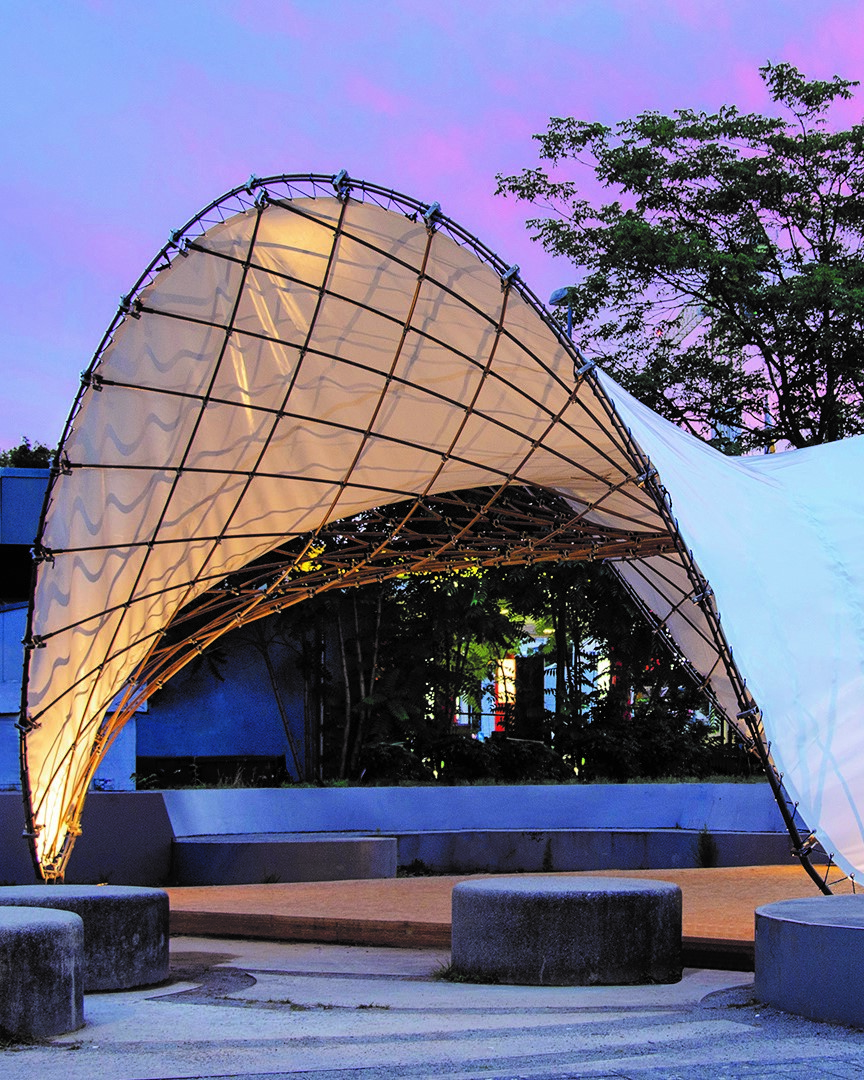 LightPRO Shell
BioMat Team at ITKE Institute, University of Stuttgart under the direction of Jun.-Prof. Dr.-Ing. M.Eng. Hanaa Dahy | Project management: Evgenia Spyridonos
LightPRO Shell is an actively bendable structure made of biocomposite profiles. These are comprised of natural flax fibres combined with a bio-resin. The potential lies in its use as a load-bearing element in a variety of structural systems. The possibilities of this newly developed bamboo-like material are demonstrated in the real world in the form of a ten meter long canopy. The profiles can be recycled or transferred to other material streams.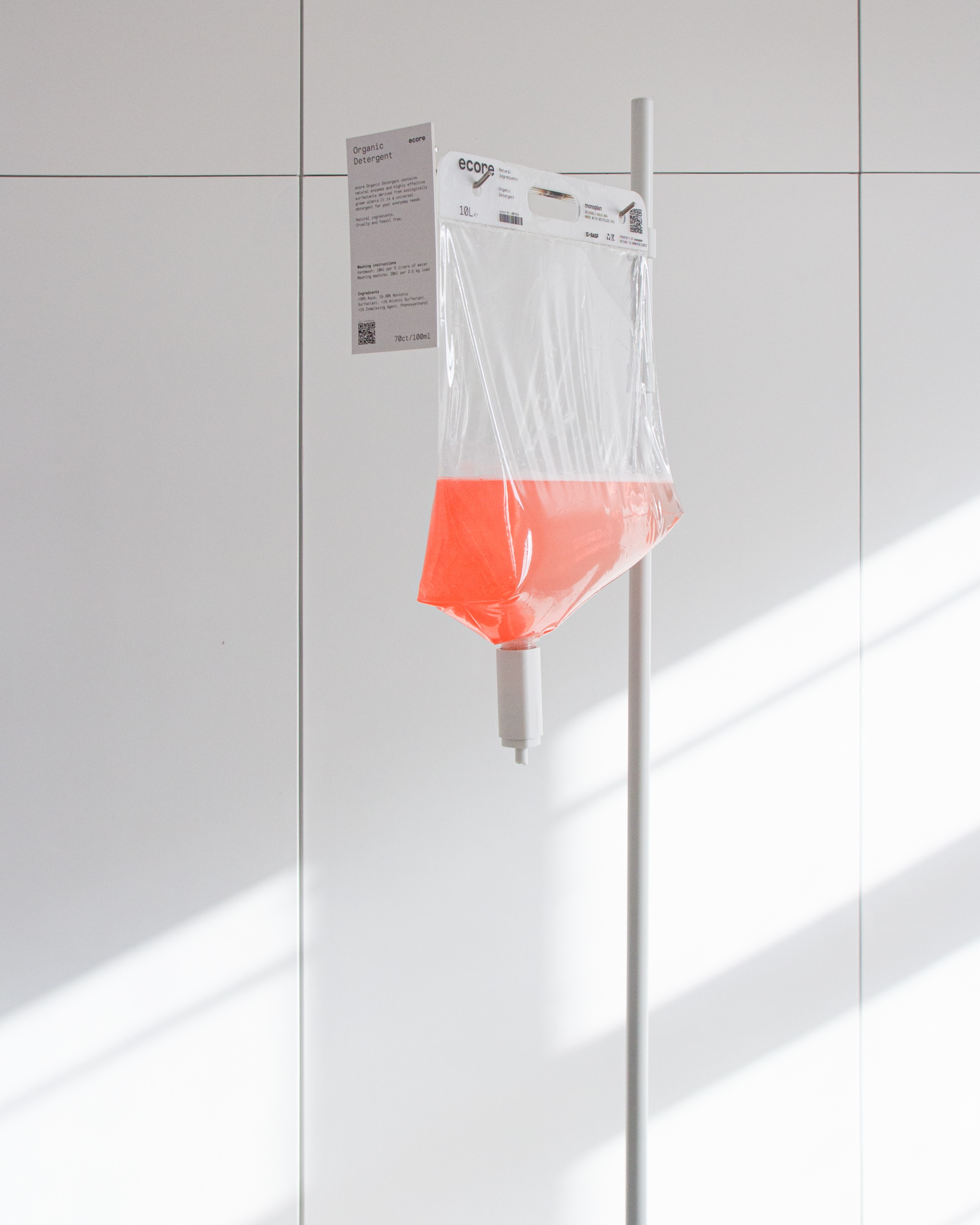 monoplan
Tim Schütze | Berlin University of the Arts
monoplan offers a new concept for refilling stations for liquid detergents and cleaning agents. Unlike conventional canisters, the large bag empties without air or residues. During refilling, monoplan does away with the need for internal cleaning and enables a minimum return volume, which in turn increases transport efficiency and reduces emissions. The filler guarantees drip-free removal and the means of hanging saves space on the sales floor. Thanks to the mono-material, the bags and filler can be materially recycled at the end of the life cycle as well as reused as recyclate in the production of new bags.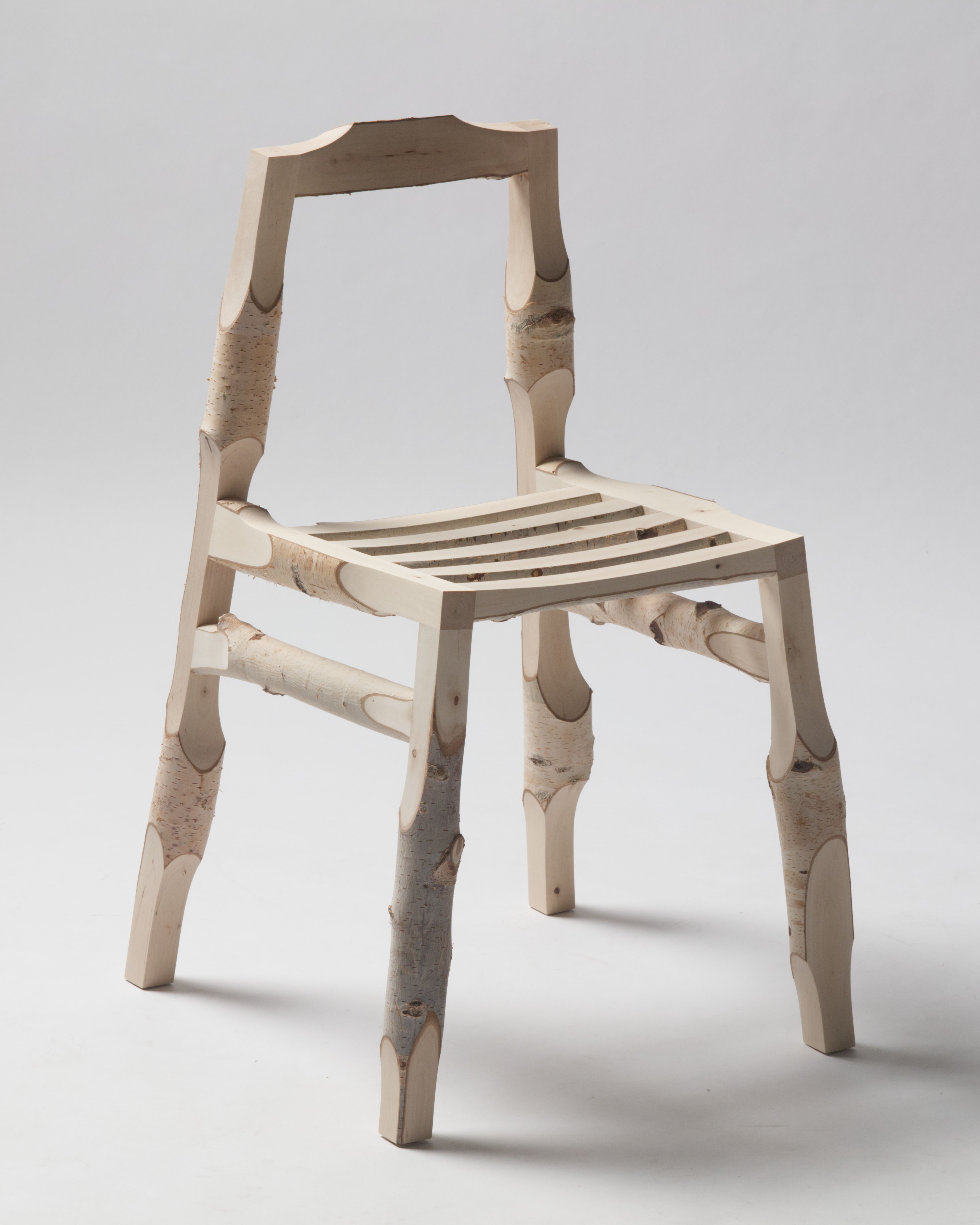 New Sources
Matthias Gschwendtner | Berlin University of the Arts
The New Sources research project is exploring new possibilities in the direct utilisation of residual materials as alternative raw materials. Branches, which are usually waste material from the wood industry, have been little utilised to date due to their complex geometry. By linking 3D scanning, computational design and robot-based manufacturing, a scalable process is created that enables the use of this previously problematic material. The Computational Log Chair is a first use case.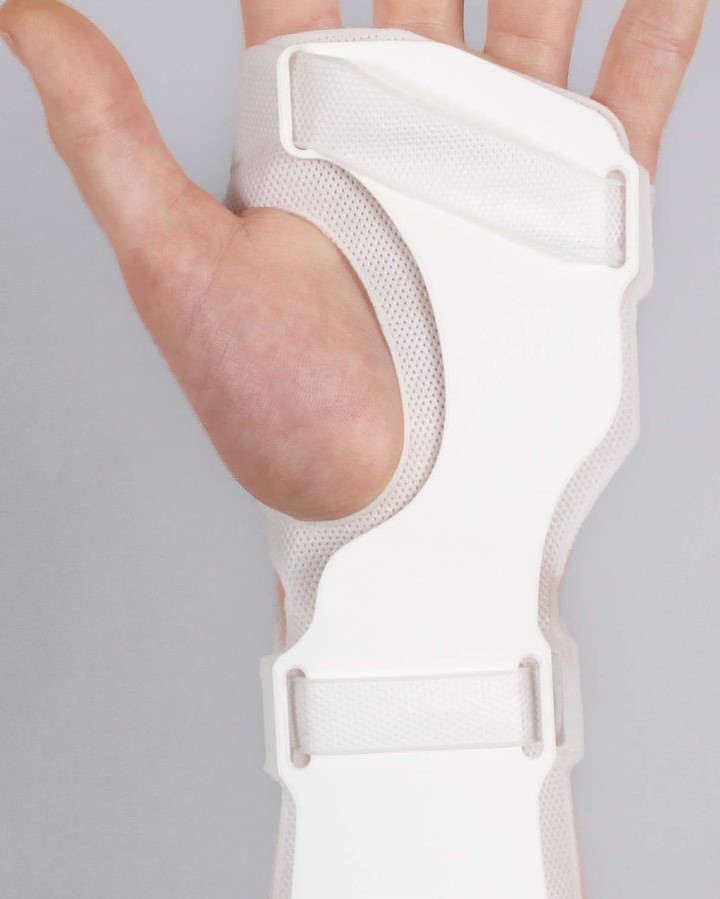 PP Mono Orthoses and Splints
Farid Taher | Burg Giebichenstein University of Art and Design Halle
For reasons of hygiene and safety, the field of medicine uses vast quantities of disposable products. The costs of disposal are correspondingly high. The robust PP Mono wrist orthoses and finger splints demonstrate how high-quality medical products made using reusable, recyclable and recycled components are indeed possible. The use of a single polymer facilitates single-variety waste collection and recycling into solid and returnable solutions. In this way, medical products that have previously been used only once and for a short time can be fed into a material cycle by means of reprocessing.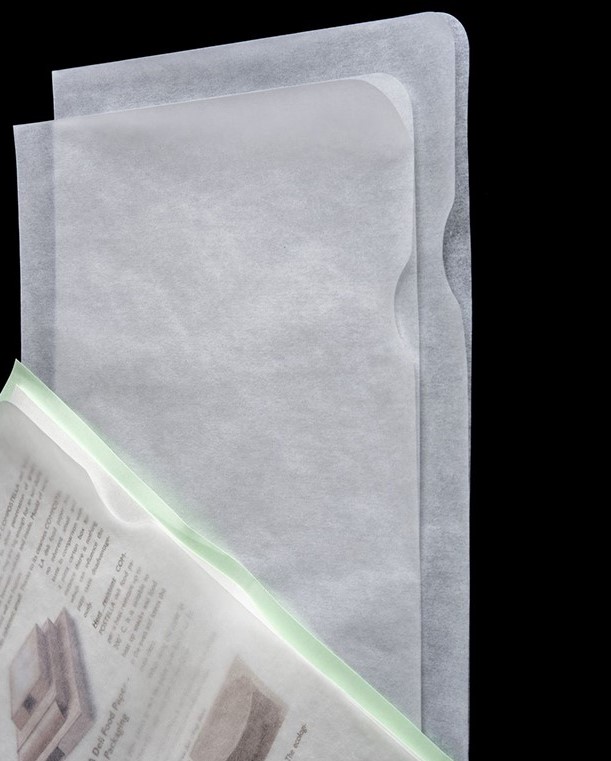 Transparent paper sleeves
Compostella GmbH
Compostella's transparent paper sleeves are pure paper products that do entirely without fossil raw materials in the course of production. Due to the chlorine-free bleached cellulose, they are both recyclable and fully compostable. And thanks to the high transparency, it is also possible to scan and copy documents without removing them from the sleeves. Production is carried out using machines powered by photovoltaic electricity from solar modules on the roof of the company building. The paper comes from a regional paper mill.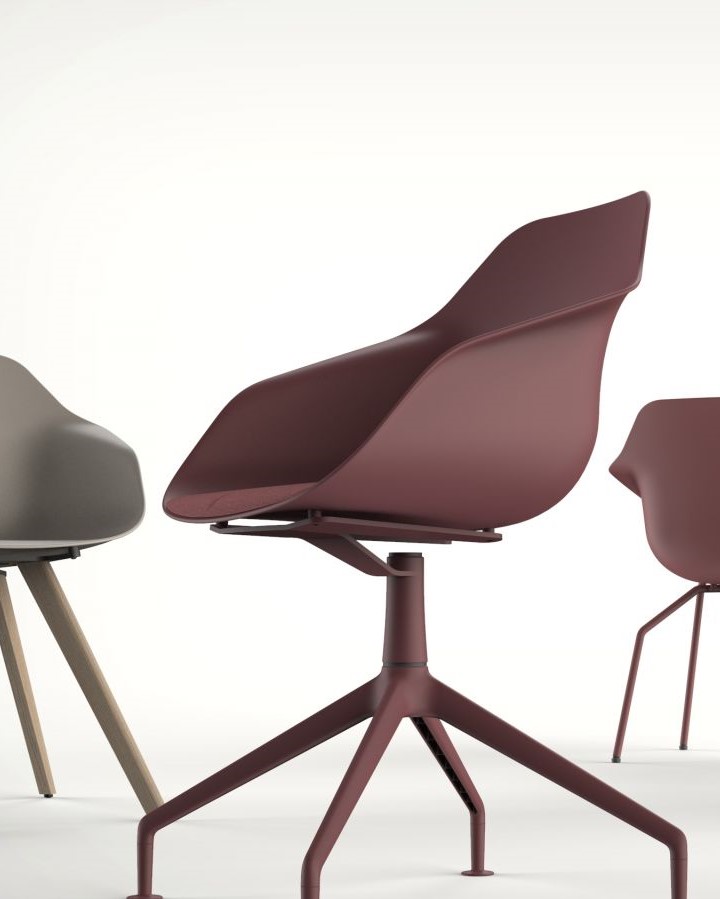 Yonda Chair
Wilkhahn Wilkening+Hahne GmbH+Co.KG
Yonda takes the classic shell chair for hybrid living and working environments and adapts it to modern requirements. Its contemporary form, seating comfort and versatile design are designed to meet the demands of the circular economy. For this reason, the chair, which is particularly easy to dismantle and is largely unmixed, uses a biocomposite shell, which can be later processed into a granulate for new components.