»Terrazzo is a great material — this classic product not only looks good but can be repaired again and again. Because URBAN TERRAZZO contains used materials, namely recycled building rubble, it comes with its own history. And thanks to efficient use of resources, it also takes account of the future!«

Rita Schwarzelühr-Sutter, jury member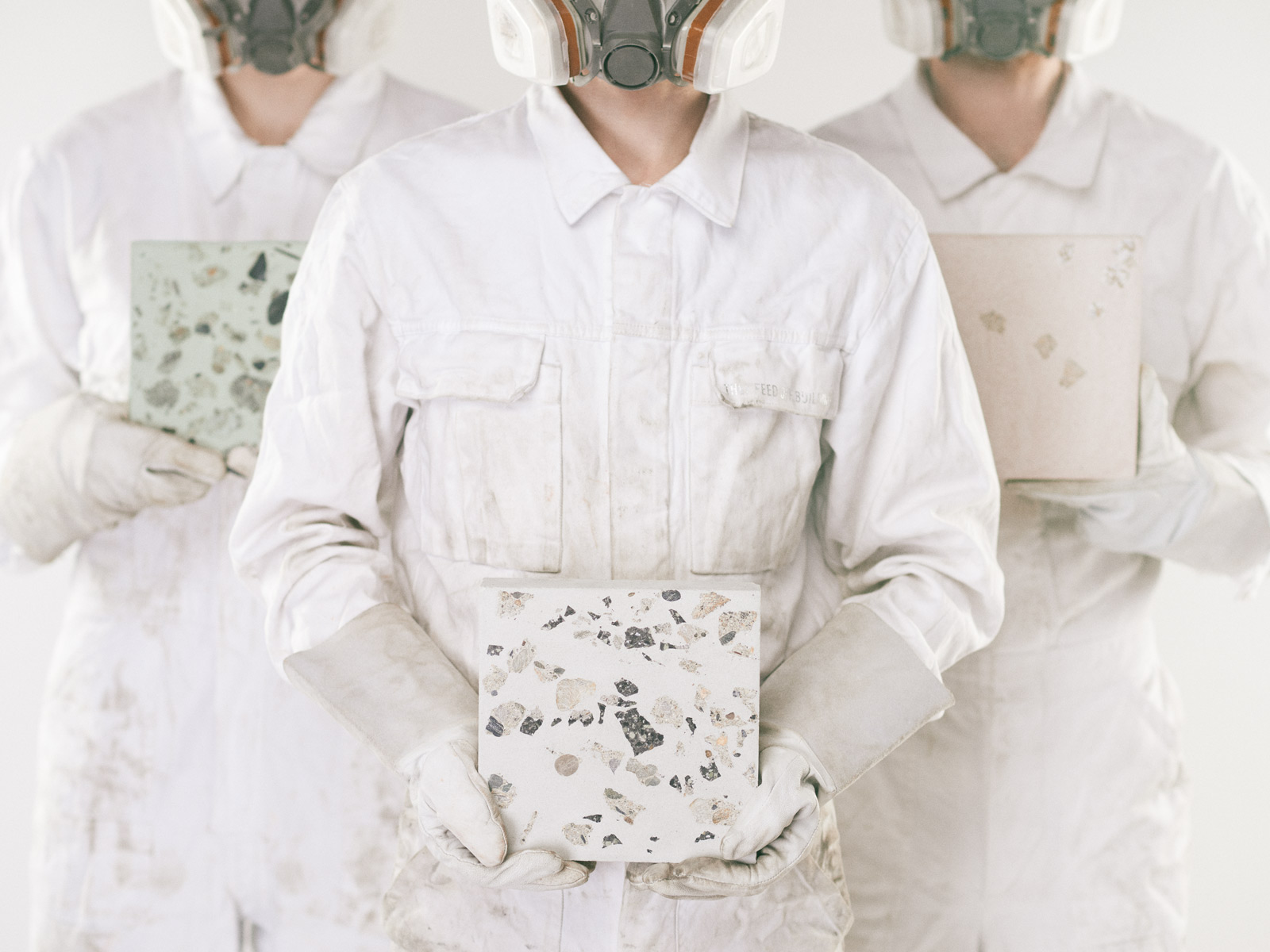 Three questions for the designers
Can you remember the moment when you first had the idea for URBAN TERRAZZO?
How did the idea become a product?
The idea for the upcycling product URBAN TERRAZZO evolved from design-based research into resource sustainability. Around 5 million tonnes of construction waste are generated every year in Berlin alone. Most of this continues to end up in our landfills. As designers, it is important to us to help bring seemingly useless old building materials back to life. To date, the motto of the standardised industry has been to make recycled products look just like new. For customers, it's practically impossible to pick out the sustainable products. We are making a difference in this regard with URBAN TERRAZZO. Every piece of URBAN TERRAZZO is as unique as its beginnings.
What was your personal highlight in the development process for URBAN TERRAZZO?
Was there a low point?
From the outset, the process of developing URBAN TERRAZZO has been an exciting journey into a new discipline. As designers, we are newcomers to the construction industry. At first, being taken seriously was not always an easy task. It was therefore an important learning step for us to use the expertise of qualified specialists to help us move from the first prototypes to a market-ready product. In the meantime, we work closely together with technology companies, manufacturers and other creatives to make URBAN TERRAZZO an industrial reality. With a growing network and increasing experience, we have developed our own production and sales model. Today, we are talking to architects and designers alike about our vision, as well as with recycling centres and concrete manufacturers. Behind URBAN TERRAZZO is genuine teamwork.
Where do you see yourself and your project in the next five years?
We are currently manufacturing URBAN TERRAZZO in two different ways. On the one hand, URBAN TERRAZZO STANDARD is produced in cooperation with our German and Italian manufacturers as an upcycled product made from local building rubble. This enables us to work on both smaller and larger scales – from countertops to floor tiles. In order to make building material recycling more widely accessible in the future, we hope that this model will also be of interest for public developers. We also offer URBAN TERRAZZO CUSTOM-MADE, which is our product for the aficionados. We consider it important to appreciate the traces of the old architecture and to think of a building as truly recyclable. For example, the demolished wall from an old forester's lodge that becomes a new terrazzo washbasin. We want to help restore new life to these traces of the old architecture. This can also be of great interest for larger construction projects with historical architectural relevance. As such, URBAN TERRAZZO is a form of progressive monument conservation.